Contact Information and Hours
Via Telephone:
Hours (Eastern)
Mon, Tues, Wed.
9:00am - 8:00pm
Fri and Sat.
9:00am - 6:00pm
514-347-4151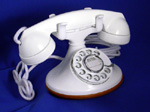 If I don't answer, please leave a message. I do not answer the phone when in session with a client.
Via email:
If email is your preference, you can also email me (Rhonda Sweder) at rhonda(@)personalhealing.ca
Please Note*
Due to the nature of my work, I do not text with clients. Thank you for understanding.